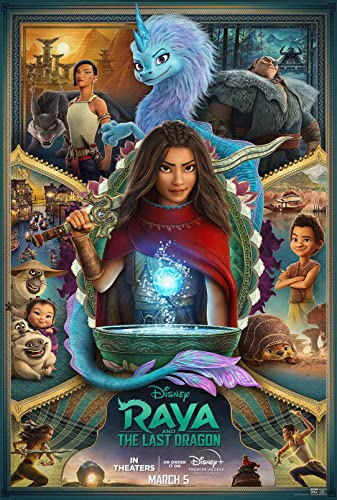 Movie Details
IMDB:
Rating: 7.4
Genres:

Animation, Action, Adventure, Comedy, Family, Fantasy

Runtime:
107 min
Rating:
Director:
Don Hall, Carlos López Estrada, Paul Briggs, John Ripa
Stars:
Kelly Marie Tran, Awkwafina, Izaac Wang
Plot:
Long ago, in the fantasy world of Kumandra, humans and dragons lived together in harmony. However, when sinister monsters known as the Druun threatened the land, the dragons sacrificed themselves to save humanity. Now, 500 years later, those same monsters have returned, and it's up to a lone warrior to track down the last dragon and stop the Druun for good.
Cyprus cinemas playing Raya and the Last Dragon
Larnaca cinemas playing Raya and the Last Dragon
Daily Schedule
1st
2nd
3rd
4th
5th
Weekend Extra Shows
Morning
Midday
Evening
17:15
Daily Schedule
1st
2nd
3rd
4th
5th
Weekend Extra Shows
Morning
Midday
Evening
17:15
Limassol cinemas playing Raya and the Last Dragon
Daily Schedule
1st
2nd
3rd
4th
5th
Weekend Extra Shows
Morning
Midday
Evening
17:30
Daily Schedule
1st
2nd
3rd
4th
5th
19:45
Weekend Extra Shows
Morning
Midday
Evening
17:30
Daily Schedule
1st
2nd
3rd
4th
5th
Weekend Extra Shows
Morning
Midday
Evening
17:15
Daily Schedule
1st
2nd
3rd
4th
5th
Weekend Extra Shows
Morning
Midday
Evening
17:15
Nicosia cinemas playing Raya and the Last Dragon
RIO Premiere Cinemas - RIO Premiere Cinemas at Nicosia Mall
Daily Schedule
1st
2nd
3rd
4th
5th
Weekend Extra Shows
Morning
Midday
Evening
15:00
17:20
RIO Premiere Cinemas - RIO Premiere Cinemas at Nicosia Mall
Daily Schedule
1st
2nd
3rd
4th
5th
Weekend Extra Shows
Morning
Midday
Evening
15:00
17:20
K-Cineplex - K CINEPLEX PRIME (strovolos)
Daily Schedule
1st
2nd
3rd
4th
5th
Weekend Extra Shows
Morning
Midday
Evening
17:15
K-Cineplex - K CINEPLEX PRIME (strovolos)
Daily Schedule
1st
2nd
3rd
4th
5th
Weekend Extra Shows
Morning
Midday
Evening
15:00
17:15
K-Cineplex - K CINEPLEX PRIME (strovolos)
Daily Schedule
1st
2nd
3rd
4th
5th
Weekend Extra Shows
Morning
Midday
Evening
15:00
17:15
K-Cineplex - K CINEPLEX PRIME (strovolos)
Daily Schedule
1st
2nd
3rd
4th
5th
Weekend Extra Shows
Morning
Midday
Evening
17:15
Paphos cinemas playing Raya and the Last Dragon
K-Cineplex - Kings Avenue Mall
Daily Schedule
1st
2nd
3rd
4th
5th
Weekend Extra Shows
Morning
Midday
Evening
15:00
17:15
K-Cineplex - Kings Avenue Mall
Daily Schedule
1st
2nd
3rd
4th
5th
Weekend Extra Shows
Morning
Midday
Evening
15:00
17:15