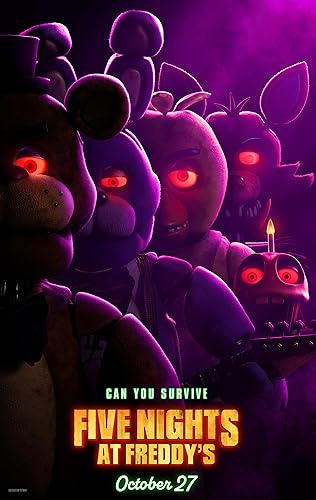 Movie Details
IMDB:
Rating: 6.2
Genres:

Horror, Mystery, Thriller

Runtime:
110 min
Rating:

15

- No admittance to children under the age of 15.

Director:
Emma Tammi
Stars:
Josh Hutcherson, Piper Rubio, Elizabeth Lail
Plot:
Mike Schmidt, a night guard at a local diner, becomes troubled after confronting the truth about the animatronic costumes that reside: they aren't just robots. They are alive. Will he be able to survive all five nights at this haunted diner? Or is something more sinister at play?
Cyprus cinemas playing Five Nights at Freddy's
Larnaca cinemas playing Five Nights at Freddy's
Daily Schedule
1st
2nd
3rd
4th
5th
19:45
Limassol cinemas playing Five Nights at Freddy's
Daily Schedule
1st
2nd
3rd
4th
5th
19:45
Nicosia cinemas playing Five Nights at Freddy's
K-Cineplex - K CINEPLEX PRIME (strovolos)
Daily Schedule
1st
2nd
3rd
4th
5th
19:45
K-Cineplex - K Cineplex Nicosia Mall
Daily Schedule
1st
2nd
3rd
4th
5th
19:45
Paphos cinemas playing Five Nights at Freddy's
K-Cineplex - Kings Avenue Mall
Daily Schedule
1st
2nd
3rd
4th
5th
19:45