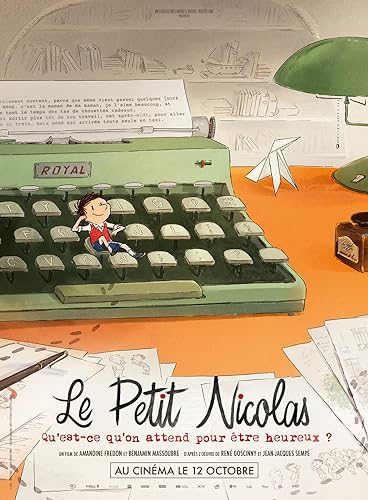 Movie Details
IMDB:
Rating: 7.2
Genres:

Animation, Comedy, Family

Runtime:
82 min
Rating:
Director:
Amandine Fredon, Benjamin Massoubre
Stars:
Alain Chabat, Laurent Lafitte, Simon Faliu
Plot:
Somewhere between Montmartre and Saint-Germain-des-Prés, Jean-Jacques Sempé and René Goscinny lean over a large white sheet of paper and bring to life a mischievous and endearing boy, Little Nicolas. From schoolyard games and fights to summer camp prank and camaraderie, Nicolas lives a merry and enriching childhood. As the adventures of Nicolas and his friends unfold, the boy makes his way into his creators' workshop and light-heartedly questions them. Sempé and Goscinny will recount the story of their friendship, career, and reveal a childhood filled with hopes and dreams.
Cyprus cinemas playing Little Nicholas - Happy as Can Be
Larnaca cinemas playing Little Nicholas - Happy as Can Be
Daily Schedule
1st
2nd
3rd
4th
5th
Weekend Extra Shows
Morning
Midday
Evening
15:00
Limassol cinemas playing Little Nicholas - Happy as Can Be
Daily Schedule
1st
2nd
3rd
4th
5th
Weekend Extra Shows
Morning
Midday
Evening
15:15
Nicosia cinemas playing Little Nicholas - Happy as Can Be
K-Cineplex - K CINEPLEX PRIME (strovolos)
Daily Schedule
1st
2nd
3rd
4th
5th
Weekend Extra Shows
Morning
Midday
Evening
15:00
K-Cineplex - K Cineplex Nicosia Mall
Daily Schedule
1st
2nd
3rd
4th
5th
Weekend Extra Shows
Morning
Midday
Evening
12:00